Reviews
Why I'm Switching From Spotify to YouTube Music
I was a Spotify user two weeks ago, but then I discovered YouTube Music which is much better based on my experience. So, how and why did I end up switching from Spotify to YouTube music?
Spotify is Great… until I discovered YouTube Music
---
I was actually satisfied with Spotify. Spotify has all the songs that I thought I wanted. I used it for years. But I didn't know that YouTube Music can offer so much more.
I only accidentally discovered YouTube Music. I had no idea about this music streaming service. I thought it was the same as the YouTube app but with music videos. And I didn't care about exploring it because I was happy with Spotify.
YouTube Music's Look and Feel is Similar to Spotify
---
But after I installed it, the app looks like Spotify. The homepage is similar to Spotify. It has albums and song mixes like Spotify. It also has the Library and Search buttons like Spotify.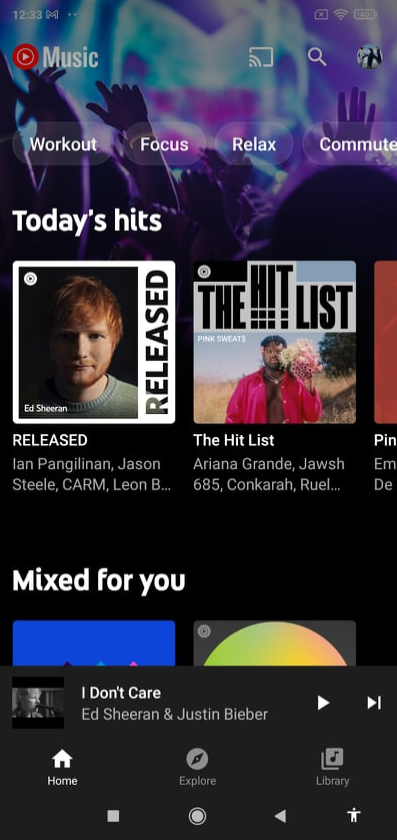 When you play a song, it also looks like Spotify. The background color also changes just like Spotify. And it also shows the lyrics section at the bottom.
I really like the "Video" option
---
What I like more about this app is that there is an option if you want to play the video as well. So right now, I'm in the "Song" option as shown below.
If I press the "Video" option, the Album cover changes to the official music video of the song. Cool, right?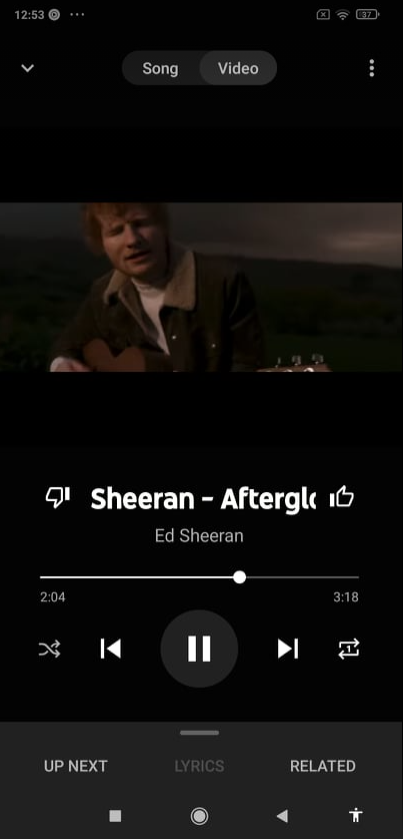 Music videos from your YouTube playlist are automatically added
---
The list of Playlists looks like this. It's also very similar to Spotify. What I like about this is that since the account here is also my Google account/YouTube account, my music playlist on YouTube was automatically added.
The content of the Playlist looks like this. Just like Spotify.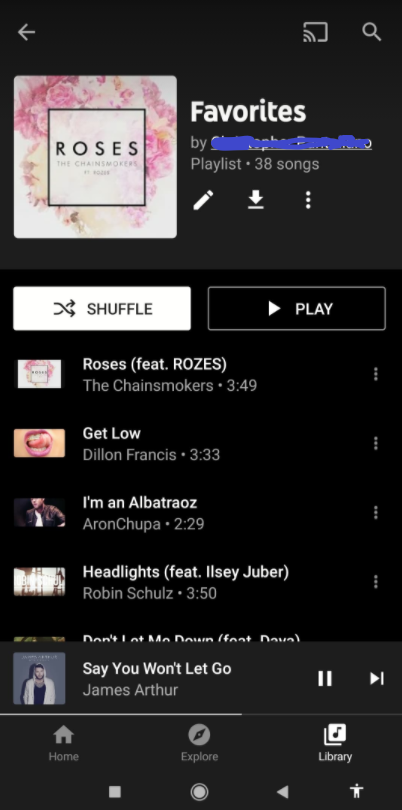 YouTube videos that you previously "Liked" are automatically added as a playlist
---
Another thing that I like about YouTube music is the "Your likes" playlist which is automatically generated. The songs that are added here also include the music videos that you liked on YouTube. Spotify can't do that.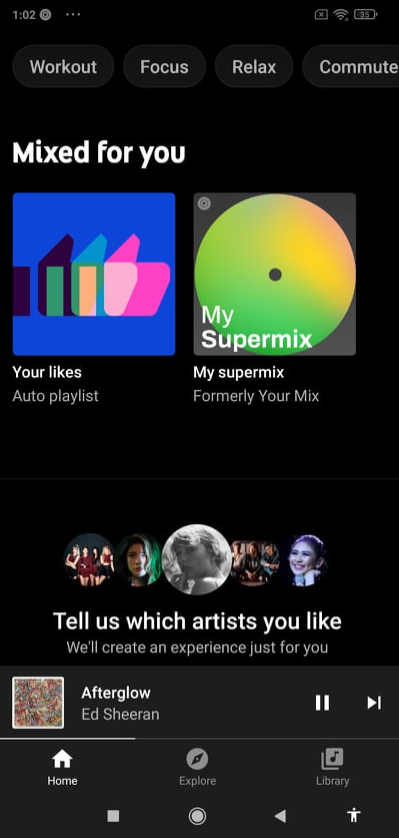 That's a big plus for me because there are live versions of songs that are only found on YouTube and I can play them here. Sometimes live versions are different and even better than the album versions.
You can listen to song versions that can only be found on YouTube
---
You can even watch YouTube videos of concert performances on YouTube Music as shown below. Not the long concert performances. Only those clips of one song from a live performance. And you can play them both in "Song" mode or "Video" mode.
Somehow YouTube Music is intelligent enough to identify the difference between a concert video of one song versus a whole concert video.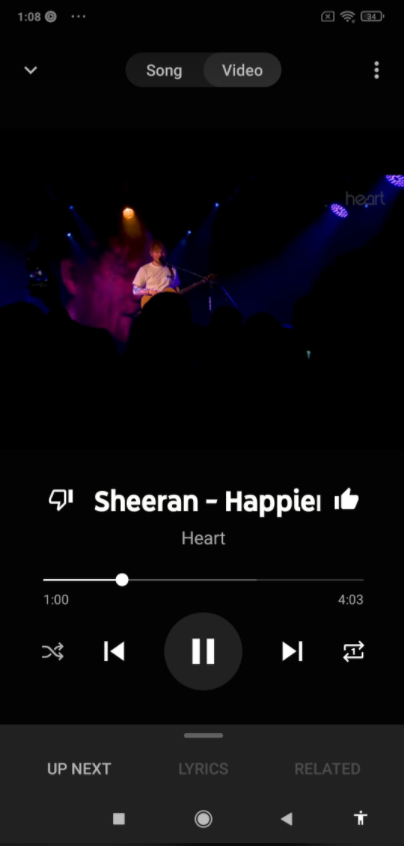 Below is another example of a "live" studio version that is better than the album version. Versions like this are only found on YouTube and you can play it on YouTube Music as a Song or a Video.
Also, YouTube Music knows the difference between a music video and a non-music video. So if you liked a non-music video of a vlogger, it will not show in the "Your likes" playlist.
YouTube Music can even play YouTube users' "Instrumental" covers
---
You can also find "Instrumental" covers of songs from YouTube. For example, I liked this instrumental cover of the song Tenerife Sea. Another YouTube user uploaded it on YouTube.
I found that same video on YouTube music under my "Your likes" playlist as shown below. I can also play it in "Song" or "Video" mode.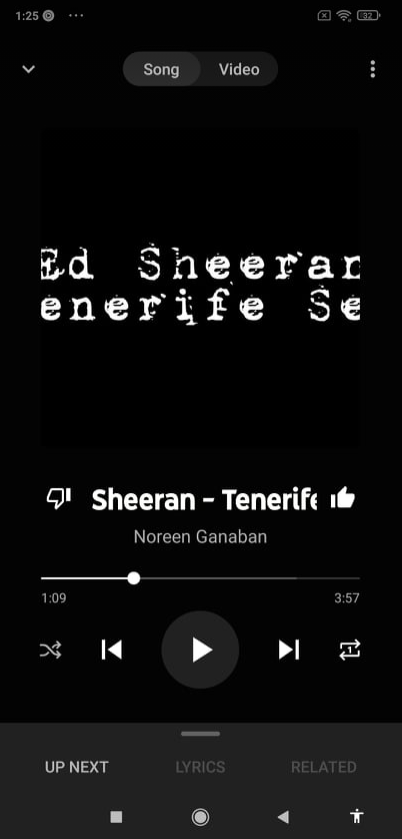 YouTube Music can even play Karaoke songs uploaded by YouTube users
---
Even the Karaoke songs that you liked on Youtube are added to the "Your likes" playlist.
YouTube Music is only an added Benefit of YouTube Premium
---
YouTube Music is not purchased separately. It's only one of the benefits of subscribing to YouTube premium. And the difference between the subscription price of YouTube Premium and Spotify Premium is very little.
YouTube Premium and Spotify Premium Price Difference is Very Little
---
YouTube Premium which already includes YouTube Music is only $11.99/month and the first 4 months are free. You can even cancel at the end of the 4th month if you don't like it.
Spotify Premium, on the other hand, costs $9.99/month. That's only a $2 difference per month. Now let's go to the other benefits of YouTube Premium.
Additional Benefits of YouTube Premium Aside from YouTube Music
---
Ad-free YouTube Experience
---
I told you earlier that I only accidentally discovered YouTube Music. My original intention was to subscribe to YouTube Premium so that I can experience an "Ad-free" YouTube. Yes, I'm so tired of YouTube ads that I want to avail the 4-month free trial period.
I watch a lot of vlogs, documentaries, music videos, video tutorials, and product reviews on YouTube. And watching with ads is not a great experience especially when YouTube added the "double" ads system where two ads are shown at one specific point in time while watching. On top of that, there are ad banners at the bottom of the video from time to time.
YouTube background play
---
When you subscribe to YouTube premium, you can already minimize the YouTube app and continue listening in the background while using other apps like Facebook.
I like the background play functionality but I don't personally use it for music videos. I use YouTube Music for that.
The background play is very useful for podcasts that are found on YouTube like Uncle Roger's "Rice to Meet You".
You can download YouTube videos
---
The download functionality is not something that I often use. But if you are going out and you want to save data usage, you can download videos in advance using your Wi-Fi at home. This is also useful if there are videos that you want to re-watch again in the future like recipe videos.
You can watch YouTube Originals
---
You can watch "YouTube Original" films and series that are, as the name implies, only found on YouTube. These series and films include genres like drama, comedy, kids & family, documentary, concerts, and reality. So far I was able to watch the complete "Scare Pewdiepie" Season 1 reality series.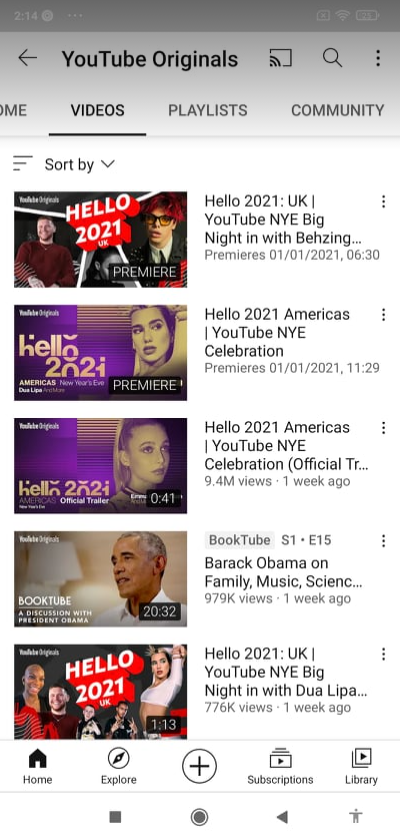 The YouTube Music Icon
---
The YouTube Music app icon is different from the YouTube app as shown below. But like Facebook and Messenger, both can use the same login account.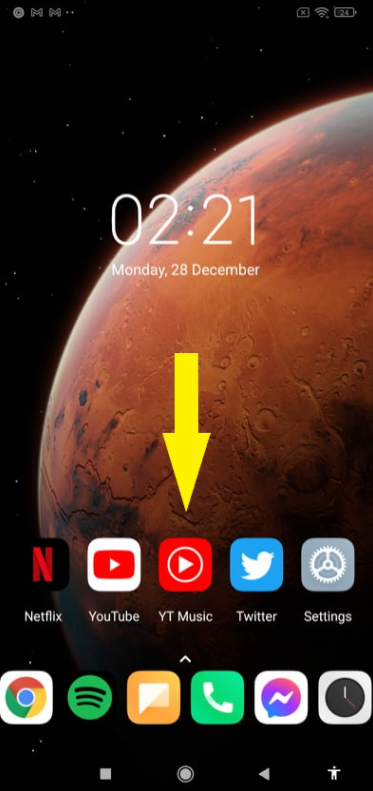 It has been two weeks since I started the 4-month free trial and I'm really liking YouTube Music. Some may worry that they need to put an effort in recreating their playlist from Spotify to YouTube Music. I don't see that as a problem.
But you don't need to close your Spotify account. You just need to change your Spotify plan from "Spotify Premium" to "Spotify Free" so your playlist on Spotify is still there. Then, rebuild your playlist on YouTube Music.
Never use a third-party app or website to convert your playlist from Spotify to YouTube Music
---
There are tutorials out there that will tell you how to easily transfer your playlist from Spotify to YouTube Music. For security reasons, never use any third-party app or website to do this.
An example is tunemymusic.com. You can paste there your Spotify playlist link. Then it will ask you to select the destination (e.g. YouTube Music) but it will require you to log in using your YouTube Music account. Never ever do this.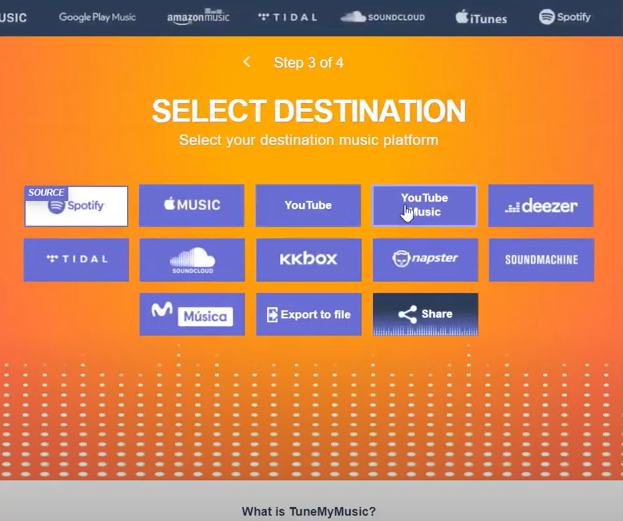 I'm just glad I found YouTube Music. And also I hope you learned something new today.
Also check out our posts about: